NEWS
The Lee's Summit R7 school district presented to the guild membership the Bears Build Zone project that will be taking place at the elementary schools starting March 22d through May 16th. The project is designed to expose 5th graders to woodworking and teaches them how to use basic hand tools. Each child is provided with the materials to build their own birdhouse using the plans provided by the Missouri Conservation Department. This is an excellent opportunity for guild members to assist the school district, be a positive role model for a child and help develop a new generation of woodworkers.
Bob Pressly briefed the membership on the use of the Automated External Defibrillator (AED) that is used to help those experiencing sudden cardiac arrest.  Bob spoke with Library staff and learned that all library personnel are required to complete annual training on how to use the AED and the training is available to anyone in the guild who is interested in taking it.  If anyone is interested in the training, reach out to Bob and he will provide you with the link.
Bob also briefed that he has secured the site for our annual summer membership picnic. We will be holding our June meeting and picnic at a large shelter off of Blackwell Road on the 13th of June. The guild will provide burgers, hotdogs, and drinks and the members are asked to bring a side dish or desert. Additional details and a map will be provided in the coming weeks.
Roy Wall, Guild President, briefed the membership that we are cleaning up the email roster due to receiving complaints that some of the members have not been receiving the email notifications regarding the meetings. Roy asked the members if they are not getting the emails to please let him or any one of the board members know so he can get it corrected.
2023 Membership Dues
We are now collecting dues for 2023 and already have new membership cards printed for existing members. Dues for 2023 are still only $20.00 for the year. If you haven't had your picture taken for our membership directory, please see Roy Wall or Phil Morgan at a future meeting.
PHIL's FINDS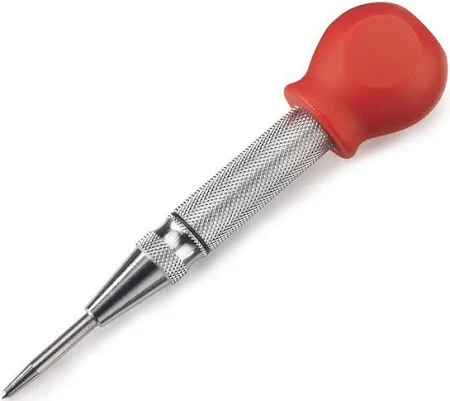 Phil Morgan brought in a NEIKO 5 inch Automatic punch that he found on Amazon for $20.41. The 5-inch automatic center punch tool is a great tool for working with materials like wood, plastic, metal, glass, and leather. Each center tool is spring loaded with an adjustable stroke and cap that accommodates any project.
PROGRAM
Scroll Saw Bowls by Don Gates.
Don shared with the guild members some of his tips for how he creates bowls using just a piece of 3/4 or 4/4 stock and his scroll saw. Don said that one of his most important tips is to use blue painters tape first and cover the material making sure to place each piece edge to edge without overlapping. Then glue your paper template to the blue painter's tape. This makes it super easy to remove the remnants of the pattern when you are done cutting it out. The most Important part of the preparation before taking you work to the saw is to cover the pattern with a clear laminate. This helps prevent tearing out of the pattern along the cut line and also helps prevent the pattern from getting rubbed off by your hand when handling the piece during the cutting process. Don also discussed how to find the right place to drill the pilot hole so it isn't obvious and also how to sand your work in stages to make it much easier and produce a better product. Great job Don! Thank you for your willingness to share your knowledge.
SHOW AND TELL
The members once again brought is some fabulous creations for show and tell and showed us all just what a talented membership we have. We are very blessed to be in the company of so many talented men and women. Some of their work can be viewed in our gallery located here or on our Facebook page located here.