This month's presentation titled "Selection and Restoration of Vintage Hand Tools" was presented by Cody Cantrell who is the woodworking teacher at Lee's Summit North High School and has a passion for restoring vintage tools. He earned his Bachelor and Master's degrees from the University of Central Missouri. Much of his presentation included his decision making process before purchasing chisels, boring tools and bench planes. In addition, he referenced several books for those interest in restoring and using vintage hand tools. Cody's hand tools are "Users" so he makes and replaces the tote for both bench planes and hand saws when necessary. He also discussed in detail what to look for in vintage bench planes. One of the features explained was finding the bench planes with a totally machined frog which was manufactured in the early 1900's. This type of frog provides more bearing surface for the plane iron thus reducing chatter.

Those who missed the meeting and are interested in knowing what to look for might check out Hyperkitten.com for their useful bench plane flowchart. The following are additional resources that Cody recommended; The Wooden Plane by John M. Whelan; Restoring, Tuning and Using Classic Woodworking Tools by Michael Dunbar; Making and Modifying Woodworking Tools by Jim Kingshott; A Guide to American Wooden Plans and their Makers by Emil & Martyl Pollack; Classic hand Tools by Garret Hack; and Restoring Antique Tools by Herbert P. Kean.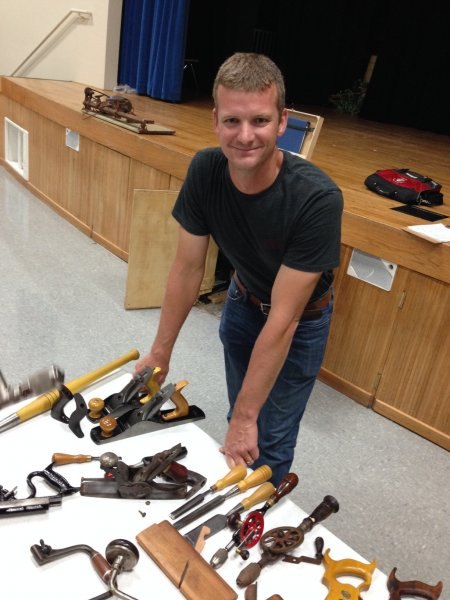 The October 2014 guild meeting will feature Box Making by David Clark. In addition, we are making plans for our
Tools for Teens Fundraiser
. Dale Chapman has agreed to cover the cost of this year's raffle items so that the entire amount raised can go to purchase of tools needed in the high school(s). Thanks again Cody for being a great ambassador for the R7 School District's Industrial Technology and Engineering Program and for your efforts in providing us with a great presentation!
Show and Tell
was fantastic this month! Showcased projects this month include several outstanding turnings by Robert Frerking, Dale Markley, and Jack Landers. Pansey Legall continues to produce scroll saw masterpieces and Dale Chapman showed his Cole Camp, Mo. Fair Blue Ribbon turning. Many thanks to Mel Bryan for taking photos and updating the gallery this month and thanks to everyone who shared their work with the guild!
Jay S. Helland