NEWS
Phil Morgan announced the guild is looking for volunteers from within the guild membership to conduct demonstrations on woodworking techniques or on their particular specialty. Phil also reminded the members the guild provides an "items for sale" section on the website where the guild members can advertise tools they have for sale. The guild is also planning another tour of KC Custom Hardwoods. Members interested in going need to contact Bob Pressley.
2022 Membership Dues
Dues for 2022 are now only $10.00 for the remainder of the year. We will start collecting for the 2023 dues in November at which time the dues will once again only be $20.00 for the year. If you haven't had your picture taken for our membership directory, please see Roy Wall or Phil Morgan at a future meeting.
PROGRAM
In this month's program our own Phil Morgan presented numerous projects he has created all out of scrap wood. He presented several pieces that were made from small pieces of scrap that most of us would have thrown away. He had several examples of tissue boxes where he pieced panels together that were then cut to size. He also displayed several candle holders and small crosses. Presented a solid case for not throwing away those small pieces. When Phil evaluates the scrap pile, he said he lets the wood tell him what it wants to be. The results speak for themselves. The template Phil has created for the tissue boxes can be found here.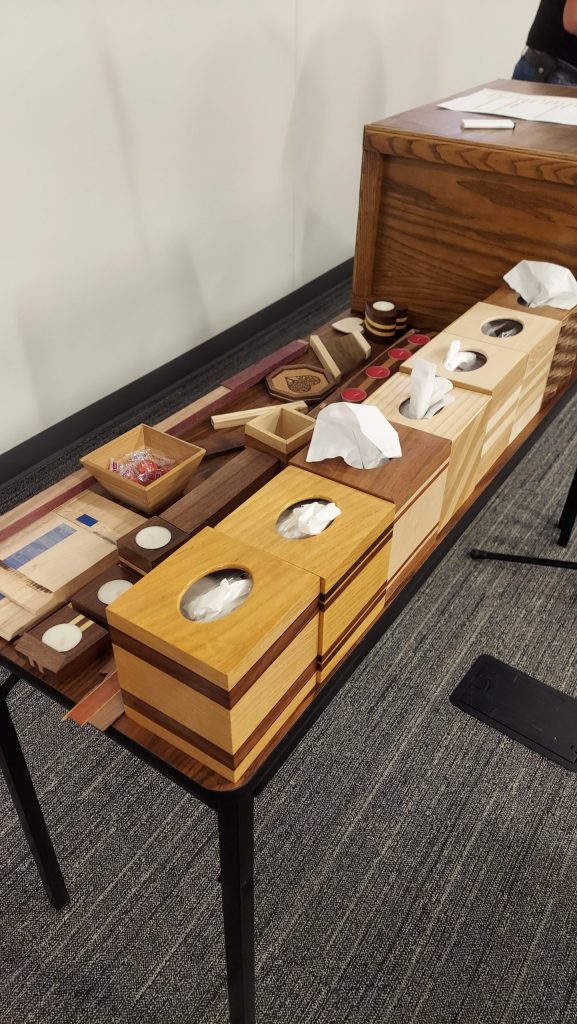 SHOW AND TELL
The members once again brought is some fabulous creations for show and tell and showed us all just what a talented membership we have. We are very blessed to be in the company of so many talented men and women. Some of their work can be viewed in the gallery here or more pictures on our Facebook page here.