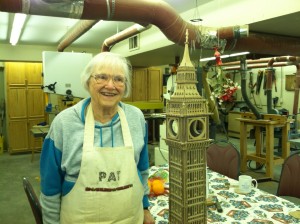 Have you ever wondered about doing woodworking in an atmosphere that embraces workmanship (sorry ladies), fun and camaraderie after your retirement?  Look no farther than the group of men and women who spend Monday-Friday working in the Hobby Hut at John Knox Village in Lee's Summit, Missouri.  This lively group of seniors can joke and harass with the best of late night comedians.   Consider what you're about to say before speaking because this witty bunch have minds as sharp as tacks.  I've had the pleasure of stopping by on occasion to see what's up with this animated group and I've always gone away feeling uplifted and inspired.     
The shop photos proudly speak to the quality of facility and equipment, as well as, the ability of those performing the woodworking.  Their projects range from refinishing antiques to building furniture for sale or producing family heirlooms.   Many of their projects are made for the Village.  A designated group is currently mass producing 54 small wall-hung displays cabinets for use by the residents in the Village.   Pride in the work is evident!
Many thanks to Hobby Hut woodworkers for allowing me to take photos of them with their projects and for making me smile!
Jay S. Helland