NEWS
Roy Wall announced that in November the membership will be voting on the leadership positions and if anyone is interested in serving in one of the positions to let him know. He also announced Mel Bryan will be stepping down after serving in numerous positions for over 20 years. Roy also announced that the guild is planning another tour of KC Custom Hardwoods and if you are interested in attending to contact Bob Pressley.
The guild will also resume having cookies and coffee starting with the November meeting and that members are encouraged to arrive by 6:30 to allow for social time prior to the start of the meeting.
The guild has also started a new process of having members and guest sign in at the entryway to the meeting so we can do a better job of tracking attendance.
2023 Membership Dues
John Freeland was able to order and receive the new 2023 membership cards early this year and as a result the guild was able to start issuing 2023 membership cards for those members' who paid their 2023 dues. Dues for 2023 are still only $20.00 for the year. If you haven't had your picture taken for our membership directory, please see Roy Wall, Randy Stone or Phil Morgan at a future meeting.
PROGRAM
This month's presentation was by Mike Taylor, founder and owner of Taylor Toolworks.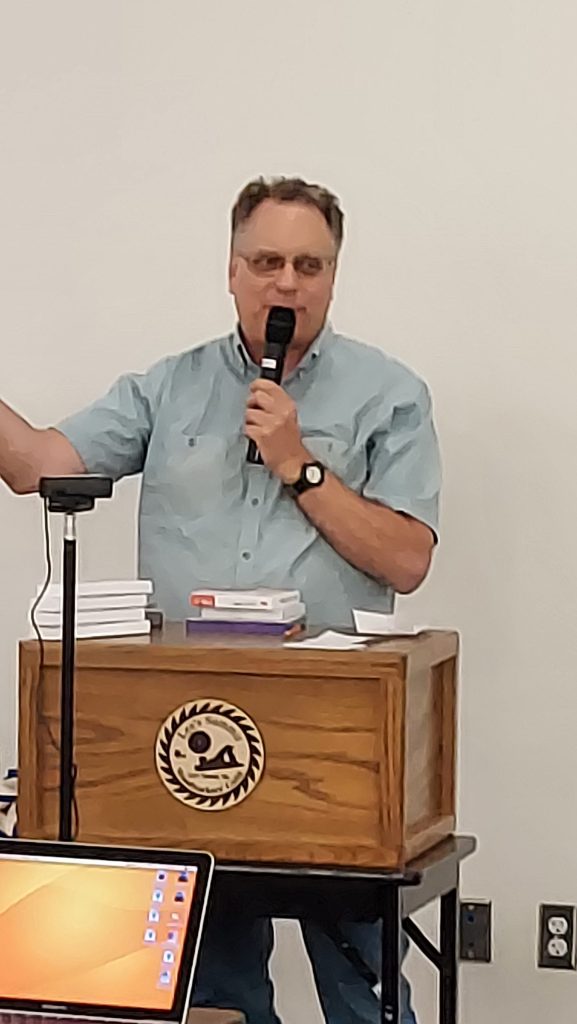 Mike officially founded his company in Columbia Missouri 12 years ago, starting out with a single tool that he sold on eBay. Based on the success of that tool he continued to create new and innovative tools and the business has grown along with it. Mikes love of woodworking started way back in high school where upon graduation he opened his own company doing woodwork. It wasn't too long that the business failed, and he went back to school and got a degree and became an Occupational Therapists. Although he had achieved a successful career his love for woodworking and more specifically hand tools led him back to expressing his creativity by developing "good tools for a good price".
Mike brought several examples of products his company carries and provided insight as to how he has developed relationships with some the largest tool companies to develop and make available to his customers tools that fit within his philosophy of creating good tools that are in a price point that is fair and affordable. You can read more about Mike and his company at his web site About us — Taylor Toolworks (taytools.com).
SHOW AND TELL
The members once again brought is some fabulous creations for show and tell and showed us all just what a talented membership we have. We are very blessed to be in the company of so many talented men and women. Some of their work can be viewed here.